Propelled by the nation's rapid economic development, there is a boom in global merger and acquisition deals by Chinese enterprises, with private companies targeting opportunities in the luxury industry, according to a report from China Venture.
The report said the value of deals in China's M&A market totaled $154 billion last year, increasing 74 percent from that in 2007. By the end of April this year, the amount of finished deals had reached $26.77 billion.
"The number and value of completed outbound M&A deals have greatly increased. A main reason is that Chinese enterprises have been showing great confidence in developing businesses by merging with and acquiring overseas companies," said Wan Ge, author of the report and an analyst at China Venture Group, a leading Chinese private equity research agency.
The value of outbound M&A deals finished last year was $39.8 billion, up from $4.46 billion in 2007. The year 2010 witnessed a record figure of $70.9 billion, largely because of the following deals: Cheung Kong Infrastructure Holding Ltd and the Li Ka Shing Foundation purchased US home and business energy supplier EDF Energy for $9.1 billion in July; Zhejiang Geely Holding Group completed the purchase of Ford Motor Co's Volvo unit for $1.8 billion in August; and Minmetals Resources Ltd spent $1.85 billion buying Australian company Minerals and Metals Group.
In 2011, 323 deals with a value of $73.2 billion were initiated, while there were 107 such deals in 2007 worth $13.58 billion.
"We are also seeing PE companies taking part in global mergers and acquisitions of Chinese enterprises. Citic PE is an instance," said Wan. "However, PE companies doing global M&A deals should have high standards and their exit channels are limited so there are not many deals in the Chinese M&A market involved with PE."
Sany Heavy Industry Co and Citic PE Advisors paid 360 million euros ($475 million) this year for concrete-pump maker Putzmeister Holding GmbH to add technology and expand overseas. In 2008, local construction machinery maker Changsha Zoomlion completed its purchase of Italy's Compagnia Italiana Forme Acciaio SpA, with Goldman Sachs and two other investors, for 271 million euros.
Influenced by the European debt crisis, many enterprises in the US and Europe are facing the twin challenges of a shortage of funds and operational difficulties. Chinese private enterprises are seeking targets with first-class technology and global sales networks, the report said.
"There is a trend that private enterprises including Fosun Group and SHIG-Weichai Group are showing great interest in the luxury industry," said Wan.
In 2011, Fosun took a stake in Folli Follie Group SA, a high-end global retailer based in Greece, with an initial investment of 84.58 million euros.
SHIG-Weichai Group announced earlier this year that it had reached agreements with the major creditors of the world's largest luxury yacht maker, the Italian company Ferretti Group, to acquire a controlling interest in Ferretti by participating in its debt restructuring.
According to Wan, 239 outbound deals totaling $50 billion were finalized in the Chinese M&A market from last year to the end of April. Among them, 61 deals with a total trade value of $27.46 billion are in the energy and mining sector, making it the most popular sector.
"China has a huge demand for energy and goes abroad positively to seek opportunities," Wan said. "Usually, Chinese buyers are State-owned enterprises with enough money so the trade value of these deals is considerable."
According to Wan, M&A deals in the energy and mining sector will remain in the leading position in the short term. Deals relating to brand, core technology and distribution networks will be more popular.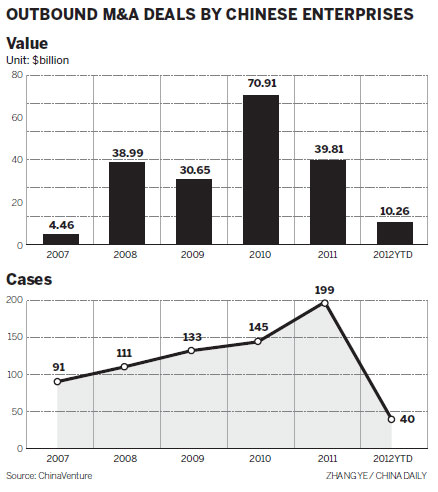 http://www.chinadaily.com.cn/business/2012-05/31/content_15431355.htm